Press Release
Reference Number
ICC-ASP-20170324-PR1289
Image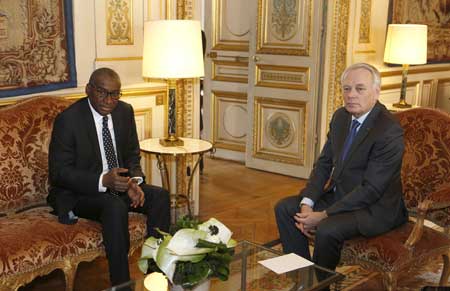 On 24 March 2017, the President of the Assembly of States Partes to the Rome Statute (« the Assembly »), Mr. Sidiki Kaba met the Minister of Foreign Affairs and International Development of France, H.E. Mr. Jean-Marc Ayrault in Paris.
President Kaba and Minister Ayrault held a constructive discussion on issues of common interest regarding the International Criminal Court and in particular on the cooperation which States may provide to the Court, for example via signing voluntary agreements between the States and the Court.
They also reaffirmed the importance of encouraging the ratification of the Rome Statute and underlining the complementary role of the Court vis-à-vis national criminal justice systems.
Furthermore, President Kaba and Minister Ayrault underscored that the political support of States, as well as that of international and regional organizations, is vital for strengthening the independence and credibility of the International Criminal Court. In this context they recognized the important work carried out by the Organisation international de la francophonie.
Finally, they reiterated the importance of supporting via voluntary contributions by States the Trust fund for victims.
Source
Assembly of States Parties