Press Release
Reference Number
ICC-CPI-20181212-PR1426

The Assembly of States Parties to the Rome Statute of the International Criminal Court ("the Assembly") held its seventeenth session from 5 to 12 December 2018 at the World Forum Convention Center in The Hague. The Assembly was attended by States Parties, observer States, invited States, international and regional organizations and representatives of civil society.
The session was chaired b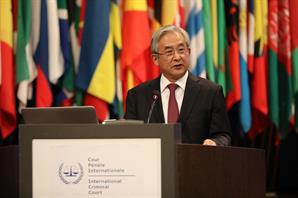 y the President of the Assembly, H.E. Mr. O-Gon Kwon. In his opening statement, President Kwon recalled that the 20th anniversary of the Rome Statute is a momentous occasion for the Assembly. He emphasized that States must move beyond making aspirational, grand-sounding statements in international fora such as this Assembly, beyond adopting resolutions and declarations, to more concrete action. He also recalled that the Court is moving forward, but will do so successfully only with the support of this Rome Statute family.
The Assembly elected H.E. Ambassador Jens-Otto Horslund (Denmark) as Vice-President, and five members of the Board of Directors of the Trust Fund for Victims:  Sheikh Mohammed Belal (Bangladesh), Ms. Mama Koite Doumbia (Mali), Mr. Gocha Lordkipanidze (Georgia), Mr. Felipe Michelini (Uruguay) and Ms. Arminka Helić (United Kingdom).
The Assembly also elected eight members of the Advisory Committee on nominations of judges: Mr. Ahmad Mohammad Barrak Binhamad (State of Palestine), Mr. Corneliu Bîrsan (Romania), Mr. Bruno Cotte (France), Mr. Adrian Fulford (United Kingdom), Ms. Lucy Muthoni Kambuni (Kenya), Ms. Sanji Mmasenono Monageng (Botswana), Mr. Enrique Eduardo Rodríguez Veltzé (Bolivia) and Ms. Sylvia Helena de Figueiredo Steiner (Brazil).
The Assembly held its general debate, which was enriched by the presence of some ministers, international organizations and representatives of civil society.
The Assembly held three thematic plenary sessions on: State cooperation, the 20th anniversary of the Rome Statute and victims' participation and legal representation.
A signing ceremony on enforcement of sentences took place on 7 December 2018 with Slovenia.
Numerous side events, including many organized by civil society, were also held during the session.
The Assembly adopted five resolutions by consensus on: the remuneration of the judges of the International Criminal Court, amendments to rule 26 of the Rules of Procedure and Evidence, cooperation, the proposed programme budget for 2019 and strengthening the International Criminal Court and the Assembly of States Parties.
The Assembly also adopted the 2019 programme budget of the Court totalling €148,135,100 and a staffing level of 973.
The Bureau of the Assembly will select the dates and venue for the eighteenth session of the Assembly by 31 January 2019.
___________________________________________________________
Further information about the session can be found at the website of the Assembly.
For additional information please contact Ms. Estera Luteranova at [email protected].

Source
Assembly of States Parties