Press Release
Reference Number
ICC-ASP-20140210-PR981
Image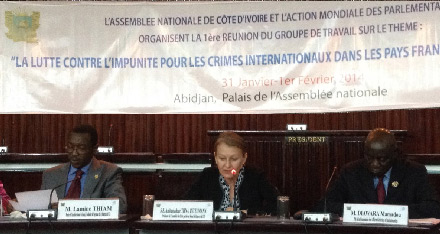 On 31 January 2014, the President of the Assembly of States Parties to the Rome Statute of the International Criminal Court, Ambassador Tiina Intelmann, opened and addressed the first meeting of the Working Group on the Fight Against Impunity in Francophone Africa held at the National Assembly of Côte d'Ivoire in Abidjan. The meeting was organized by the National Assembly and Parliamentarians for Global Action.
Participating parliamentarians from States Parties to the Rome Statute Côte d'Ivoire, Guinea, Mali and Senegal made statements of support to the ongoing judicial work of the International Criminal Court throughout Africa. In relation to these statements, the President of the Assembly stated:
"I am grateful for the support by African parliamentarians to the Rome Statute, and for reminding the world of the continued relevance and necessity of an independent and permanent International Criminal Court. Parliamentarians speak with the authority of their constituencies, many of them victims of heinous crimes. Their statements remind us, that while the fight against impunity confronts us with extraordinary challenges, it is an imperative task for sustainable peace."
The President of the Assembly raised with the participants of the meeting the importance of achieving universality of the Rome Statute, and welcomed support for the ratification of the Rome Statute from parliamentarians from Cameroon and Togo.
In her remarks, President Intelmann also addressed the common concerns and misperceptions about the system of the Rome Statute. President Intelmann reminded participants that the decisions of States Parties, including from Africa, to allow the protection of the Rome Statute to benefit their citizens is a right that many victims in nations around the world do not enjoy.President Intelmann recalled that referrals by States Parties of situations within their own territories are signs of confidence in the Court.
Also, President Intelmann highlighted the importance to match political statements on the principle of complementarity in Africa with the effective adoption of national legislation and other measures that would allow the investigation and prosecution of atrocity crimes domestically.
President Intelmann reminded participants of the adoption at the 2010 Review Conference held in Kampala of amendments to the Rome Statute and invited them to work towards the ratification of the amendments concerning the crime of aggression, and concerning the inclusion of the use of certain weapons during armed conflicts not of an international character as war crimes.
President Intelmann met with the Speaker of the National Assembly, Mr. Guillaume Soro, and shared a panel with Mr. Richard Christophe Adou, the Prosecutor of Côte d'Ivoire. The Working Group meeting was also attended by officials from the Court, the Office of the Prosecutor, and the Office of the Public Counsel for Victims, as well as by representatives from the United Nations, the European Union, diplomatic missions from States Parties, and local civil society groups.
Source
Assembly of States Parties