Press Release
Reference Number
ICC-CPI-20140522-PR1006
Image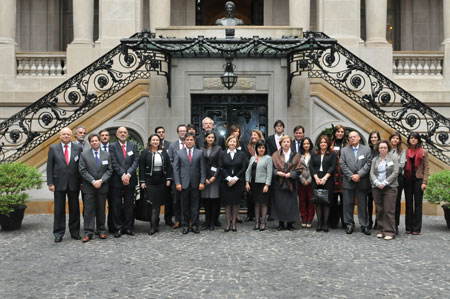 On 20 and 21 May 2014, a high level seminar for fostering cooperation between the International Criminal Court (ICC) and States Parties to the Rome Statute was held in Buenos Aires, Argentina. Government representatives from 10 Latin American countries, as well as Norway and the Netherlands, ICC officials and experts held in-depth discussions on the most relevant issues regarding cooperation between the ICC and States Parties, with an emphasis on the justice sector. 

In her keynote address to open the seminar, ICC Judge Silvia Alejandra Fernández de Gurmendi stated: "The contribution that Latin America has made and continues to make in favor of the universality of the Court is essential to strengthen the legitimacy of the institution. The region can also do much to enhance its efficiency through greater cooperation with its investigations and prosecutions".
Representing the seminar's host state, Argentina's Minister of Foreign Affairs Héctor Marcos Timerman added: "Sixteen years since the adoption of the Rome Statute, the ICC is a fully operational, permanent international court of criminal justice. The Court could not have reached this stage without the support of States. Such cooperation of States with the Court is a key element in the ability of the ICC to fulfil its mandate".

In all of its activities, the ICC relies on the cooperation of States and international organisations, including in arresting and surrendering suspects, seizing and freezing assets, enforcing sentences of imprisonment pronounced by the Court, receiving detainees after their interim release, or relocating witnesses. The Court may enter into arrangements or agreements to provide such cooperation.
The event was organized by the ICC in close cooperation with the Norwegian Embassy to the Kingdom of the Netherlands and the Permanent Representative of the Netherlands to the ICC, funded by the European Commission, the Governments of the Netherlands and Norway, and supported by the Government of Argentina. 
The International Criminal Court is an independent, permanent court that tries persons accused of the most serious crimes of concern to the international community as a whole, namely the crime of genocide, crimes against humanity, war crimes and the crime of aggression.
---
For further information, please contact Fadi El Abdallah, Spokesperson and Head of Public Affairs Unit, International Criminal Court, by telephone at: +31 (0)70 515-9152 or +31 (0)6 46448938 or by e-mail at: [email protected].
You can also follow the Court's activities on YouTube and Twitter