Press Release
Reference Number
ICC-CPI-20140619-PR1018
Image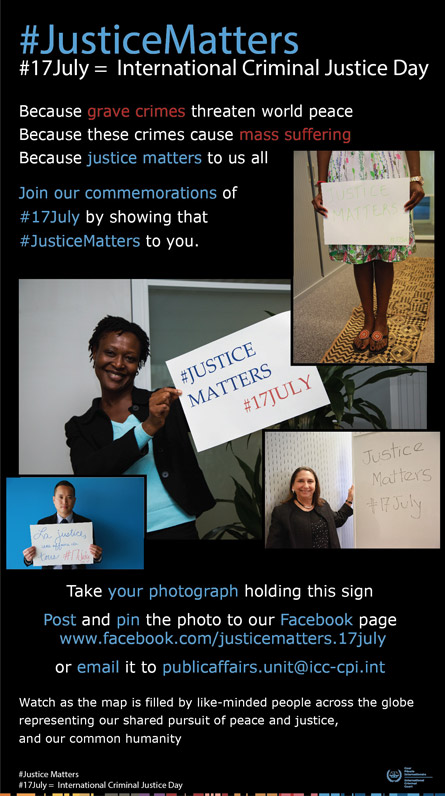 A new Justice Matters social media campaign has been launched today to commemorate 17 July: International Criminal Justice Day. Running from now until 17 July 2014, the campaign aims to raise awareness of the vital need for international justice worldwide, and connect those who strive for a more just, peaceful world.

Launched jointly by the International Criminal Court (ICC) and President of the Assembly of States Parties (ASP), the campaign involves three main elements.

1. Call for photographs on Facebook: Participants can take photos holding a sign that says "#JusticeMatters #17July", post them to the Justice Matters Facebook page (https://www.facebook.com/justicematters.17july) and pin their location to the page's world map. Information products such as our campaign poster can be reposted and shared.

2. Profile pictures: On 17 July, participants can change their profile picture to the #17July logo.

3. Twitter: Throughout the campaign, but particularly on 17 July, participants can join the dialogue using the #JusticeMatters and #17July hashtags.

The Justice Matters Facebook page is also platform for individuals and organisations to find posters and other tools for raising awareness, and get related information about the ICC and ASP, and share events and information on their respective actions to raise awareness on International Criminal Justice Day. Users can also share the page with their friends. Information posted to the page will be accessible to the public at large and easily found using common search engines.

Background
17 July is the Day of International Criminal Justice. It marks the anniversary of the adoption of the Rome Statute on 17 July 1998, the founding treaty of the ICC, which seeks to protect people from genocide, crimes against humanity, war crimes and the crime of aggression.
17 July unites all those who wish to support justice, promote victims' rights, and help prevent crimes that threaten the peace, security and well-being of the world.

The ICC
The International Criminal Court (ICC) is the first permanent international criminal court established to try individuals for genocide, war crimes and crimes against humanity. More information: www.icc-cpi.int
The Court Today, Factsheets, Situations under investigation , Cases, Weekly Update Newsletter and News. Follow the ICC @IntlCrimCourt     

The ASP
The Assembly of States Parties (ASP) is the ICC's management oversight and legislative body of the Rome Statute system, which is composed of States that have ratified or acceded to the Rome Statute. To date, the Rome Statute has 122 States Parties. The Assembly adopts the normative texts of the Court, approves the ICC's budget, and elects the judges, Prosecutor and Deputy Prosecutor(s). Follow ASP President Ambassador Tiina Intelmann @Tintelmann   
---
For further information, please contact Fadi El Abdallah, Spokesperson and Head of Public Affairs Unit, International Criminal Court, by telephone at: +31 (0)70 515-9152 or +31 (0)6 46448938 or by e-mail at: [email protected].

You can also follow the Court's activities on YouTube and Twitter