Press Release
Reference Number
ICC-CPI-20150311-PR1096
Image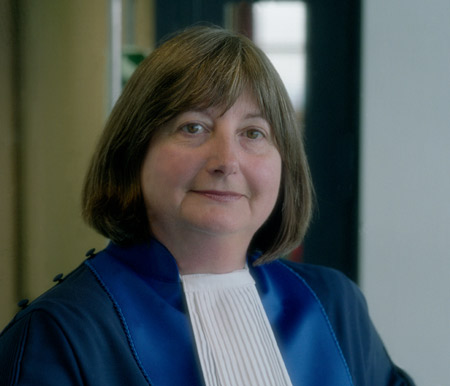 Today, 11 March 2015, the judges of the International Criminal Court (ICC), sitting in a plenary session, elected Judge Silvia Fernández de Gurmendi (Argentina) as President of the Court for a three-year term with immediate effect. Judge Joyce Aluoch (Kenya) was elected First Vice-President and Judge Kuniko Ozaki (Japan) Second Vice-President.
"It is a great honour to have been elected President of the International Criminal Court. I will do my utmost to live up to the trust that my fellow judges have placed in me. I look forward to working together with the two Vice-Presidents, Judge Joyce Aluoch and Judge Kuniko Ozaki, and indeed all the judges and other organs of the Court, as well the Assembly of States Parties, civil society and the international community at large, in fulfilling the ICC's important mandate for the sake of justice, peace and the rule of law", President Fernández de Gurmendi stated following the election. "I also wish to express my deep appreciation of the outstanding contributions that the previous President, Judge Sang-Hyun Song, and Vice-Presidents Sanji Mmasenono Monageng and Cuno Tarfusser made during their mandate," she added.
The Presidency – consisting of the President and the two Vice-Presidents – plays a key role in providing strategic leadership to the ICC as a whole. The Presidency coordinates with the other organs and seeks the concurrence of the Prosecutor on matters of mutual concern. In accordance with the Rome Statute, the ICC's governing treaty, the Presidency is responsible for the proper administration of the Court, with the exception of the Office of the Prosecutor.
The Presidency oversees the activities of the Registry and provides input into a broad range of administrative policies affecting the Court's overall functioning. Furthermore it conducts judicial review of certain decisions of the Registrar and concludes Court-wide cooperation agreements with States and international organizations.
For further information, please contact Fadi El Abdallah, Spokesperson and Head of Public Affairs Unit, International Criminal Court, by telephone at: +31 (0)70 515-9152 or +31 (0)6 46448938 or by e-mail at: [email protected].
You can also follow the Court's activities on YouTube and Twitter