Press Release
Reference Number
ICC-CPI-20121001-PR840
Image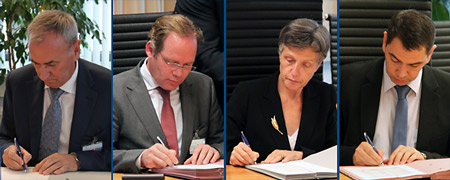 On 1 October 2012, the International Criminal Court (ICC) and the Combination Visser & Smit Bouw and Boele & van Eesteren signed a contract for the realisation of the Permanent Premises of the International Criminal Court in The Hague (The Netherlands). The construction is expected to start in 2013 and to be completed by 2015. The building is designed by the Danish architecture firm schmidt hammer lassen architects.
"Today's signature of the contract marks an important step forward in the realisation of the International Criminal Court's permanent premises," said ICC Registrar Silvana Arbia. "Taking place on the Court's tenth anniversary, this signature is also a symbolic landmark in consolidating the ICC as a permanent institution," she added. "The Court is fully appreciative of the support provided by the Host State throughout this process which is the testimony of its commitment to this institution."
Combination Visser & Smit Bouw and Boele & van Eesteren was selected to construct the permanent premises for the ICC for an amount of €147 million. The new premises will be situated on the former site of the Alexanderkazerne (Alexander Barracks) between the natural rolling dunes landscape and the edge ofThe Hague (Netherlands) on the site given to the Court by the Host State.
"We are delighted to have been awarded such an internationally prestigious project and look forward to working with the International Criminal Court," said Frans Snaaijer, Director of the Combination Visser & Smit Bouw and Boele & van Eesteren. "Transparency, mutual trust and collaboration are the core values that will contribute to a sound basis. We embrace these values and have experienced in the past that these result in very successful projects for all parties involved."
At present, the ICC is housed in interim premises in the Binckhorst area of The Hague. As a permanent judicial institution, the ICC requires functional permanent premises to enable the Court to discharge its duties effectively and to reflect the significance of the Court in the fight against impunity. In December 2007 the Assembly of States Parties to the Rome Statute (the Court's founding treaty) decided that the ICC should be provided with newly built permanent premises.
About the Combination Visser & Smit Bouw and Boele & van Eesteren
Combination Visser & Smit Bouw and Boele & van Eesteren is part of the VolkerWessels Group. VolkerWessels is a Dutch group of companies with 16,000 employees in 125 operating companies and offices in the Netherlands, Belgium, theUnited Kingdom, Canada and the United States. Other partners involved in the combination are Homij/ Imtech and Scheldebouw.
About the ICC
The International Criminal Court is the first permanent, treaty-based, international criminal court established to help end impunity for the perpetrators of the most serious crimes of concern to the international community, namely war crimes, crimes against humanity and genocide.
Contact details
For further information about this press release, please contact:
Combination Visser & Smit Bouw and Boele & van Eesteren: Gertrude van der Gun, Communication advisor
Tel. +31 (0)78 641 6363
E-mail : [email protected]
International Criminal Court: Fadi El Abdallah, Spokesperson and Head of Public Affairs Unit
Tel: +31 (0)70 515-9152 or +31 (0)6 46448938
E-mail: [email protected]