Press Release
Reference Number
ICC-CPI-20121018-PR844
Image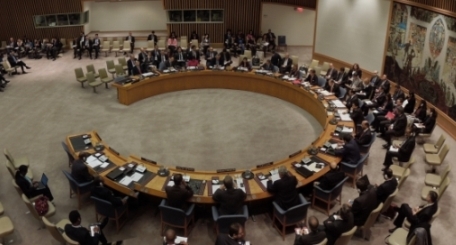 On 17 October 2012, in New York, the United Nations Security Council held an open debate on "Peace and Justice with a Special Focus on the Role of the International Criminal Court", convened by the Guatemalan Presidency of the Security Council. The ICC President, Judge Sang-Hyun Song, and the Director of the Jurisdiction, Complementarity and Cooperation Division in the Office of the Prosecutor, Mr Phakiso Mochochoko, addressed the Council. UN Secretary-General Ban Ki-moon, the President of the Assembly of States Parties to the Rome Statute, Ambassador Tiina Intelmann, and a number of Security Council members also participated in the debate. While the Prosecutor regularly briefs the Security Council on progress in situations referred to the Prosecutor by the Council – Darfur, Sudan and Libya – this is the first time that the ICC President has been invited to address the Security Council.
President Song highlighted that the "Security Council and the ICC are two highly distinct bodies, with very different roles", which are nonetheless "connected by the shared objectives of peace, justice and respect for international law, enshrined in both the UN Charter and the Rome Statute". President Song also noted that "[f]or the ICC to effectively deal with situations referred by the Council under Chapter VII, it needs to be able to count on the full and continuing cooperation of all UN members, whether they are parties to the Rome Statute or not". He added that "[i]n making any future referrals, it would be very helpful if the Security Council could underline this obligation of full cooperation, without which it is very difficult for the ICC to discharge the mandate the Council has given it". President Song closed his remarks by assuring the Security Council that the Court "will hold fast to the principles of prosecutorial and judicial independence and the rule of law".
In turn, the Office of the Prosecutor stressed the need for cooperation and echoed the President in calling on the Council and States to implement Court decisions. "The Council and the Office should together seek more constructive strategies for attaining their mutual goals. We are encouraged by recent efforts of regional organisations and would like to particularly mention the multilateral efforts to bring to justice the leaders of the Lord's Resistance Army including Joseph Kony. These efforts must be replicated in other situations. The failure of States to implement ICC arrest warrants is reflected as well in the failure to implement Security Council resolutions relating to cessation of violence, disarming parties to the conflict, ensuring an end to impunity through local initiatives, and other relevant obligations", said Mochochoko. 
For further information, please contact Fadi El Abdallah, Spokesperson and Head of Public Affairs Unit, International Criminal Court, by telephone at: +31 (0)70 515-9152 or +31 (0)6 46448938 or by e-mail at: 
[email protected]
.