Press Release
Reference Number
ICC-CPI-20121114-PR851
Image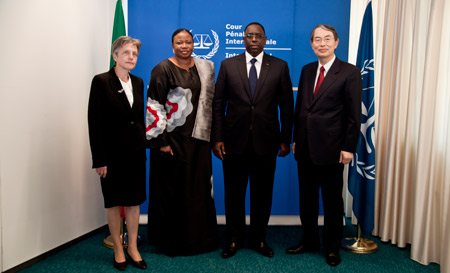 Today, 14 November 2012, the President of the Republic of Senegal H.E. Macky Sall, visited the International Criminal Court (ICC), to meet with ICC President Sang-Hyun Song and other high-level officials of the Court.
Judge Song thanked the Senegalese President for his country's longstanding cooperation and support, both operational and political, to the Court. "As the first State to ratify the Rome Statute, Senegal holds a special place in the ICC's history", said ICC President. "The ICC looks forward to working with Senegal and all other States Parties in the next decades to achieve our ultimate goal in ending impunity", President Song added.
"The creation of the Court is a remarkable improvement of the international community in the fight against impunity and for compliance with universal values that underlie our humanity", President Sall stated. He also pledged that his country would continue to support the Court in any way it can.
The President of the Republic of Senegal's visit to the ICC reflects a strong relationship based on the shared values of the fight against impunity and the importance of justice for the progress of societies. This visit takes place in the context of the opening on the same day of the 11th Session of the Assembly of States Parties to the Rome Statute of the International Criminal Court.
The ICC is the first permanent, treaty-based, international criminal court established to help end impunity for the perpetrators of the most serious crimes of concern to the international community, namely war crimes, crimes against humanity and genocide.
For further information, please contact Fadi El Abdallah, Spokesperson and Head of Public Affairs Unit, International Criminal Court, by telephone at: +31 (0)70 515-9152 or +31 (0)6 46448938 or by e-mail at: [email protected].