Press Release
Reference Number
ICC-ASP-20130716-PR933
Image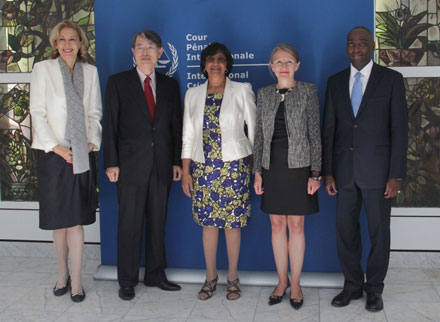 From 8 to 9 July 2013 the President of the Assembly of States Parties ("the President"), Ambassador Tiina Intelmann, visited The Hague. During her visit she delivered opening remarks at the official event marking the celebrations of the Day of International Criminal Justice. She welcomed the keynote speaker, the United Nations High Commissioner for Human Rights, Ms. Navi Pillay, and called upon States Parties to reaffirm their support to the Court and the Rome Statute system. President Intelmann urged States Parties to formulate pledges and engage their governments by placing a significant national focus on the celebration of the Day of International Criminal Justice through, inter alia, issuing high-level statements and press releases as well as organizing symbolic events in the shape of seminars and conferences. 
President Intelmann also addressed participants of the Third Edition of the Ibero-American Week of International Justice and Human Rights taking place from 8 to 12 July in The Hague. She thanked the organizers and the embassies of Argentina, Ecuador and Mexico for sponsoring the event. In addition, President Intelmann spoke at a Roundtable event for Ambassadors from the Asian region organized by the United Kingdom in its capacity as a co-focal point for the Plan of action on achieving the universality of the Rome Statute. In her address the President emphasized the crucial role of universality in order to end impunity for the perpetrators of the most serious crimes of international concern and highlighted the benefits for States of becoming part of the Rome Stature system. 
During her visit, President Intelmann also held meetings with senior officials of the Court and members of the diplomatic community, including a Bureau meeting.
---
For further information on the Assembly of States Parties, please e-mail to
[email protected]
Source
Assembly of States Parties