Press Release
Reference Number
ICC-CPI-20090917-PR451
Image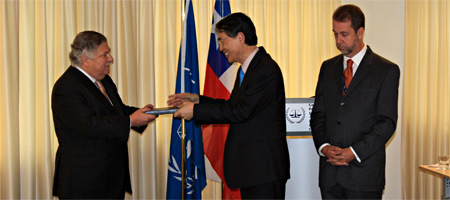 Today, the International Criminal Court held a ceremony to welcome the Republic of Chile as the newest State Party to the Rome Statute. The Statute entered into force for Chile on 1 September 2009, bringing the total number of States Parties to the Rome Statute to 109.
In a symbolic act held at the seat of the Court, the President of the Court, Judge Sang–Hyun Song, congratulated the Ambassador of Chile, H.E. Mr Juan Antonio Martabit whilst presenting him with a special edition of the Rome Statute. President Song welcomed the new State Party member: "Even as Chile sifts through its past, by joining the Rome Statute, it has made clear its commitment to a particular vision of a common human future. It is a future of accountability – a future of justice for war crimes, crimes against humanity and genocide", said President Song.
In response to the President and while thanking him for his gift, Ambassador Martabit said, "I would like to emphasise that, although this achievement is the result of the efforts of many sectors of our society, it is most of all due to the personal interest of our President, Ms Michelle Bachelet, who considered the ratification of the Rome Statute a primary goal of her government."
The ceremony was held in the presence of the Vice-President of the Assembly of States Parties and Ambassador of Mexico, H.E. Mr Jorge Lomónaco. The Vice-President of the ICC, Judge Fatoumata Dembele Diarra, the Prosecutor, Mr Luis Moreno Ocampo, the Registrar, Ms Silvana Arbia, and the judges of the Court also attended the ceremony.
Ambassador Lomónaco paid tribute to the Republic of Chile, remarking on the significant accomplishment of such a ratification in light of the history of Latin American countries in the twentieth century: "I wish to express my genuine hope that other countries that have yet to join the Rome Statute family will be inspired by Chile's example and reinforce our common struggle to end impunity".
Whilst this is the first time that the ICC has organised a ceremony for such an event, it is envisaged that future ceremonies will also be held on the occasion of new States joining the ICC.
---
Speech of the President of the ICC, Judge Sang-Hyun Song
Speech of the Vice-President of the Assembly of States Parties, the Ambassador of Mexico, H.E. Mr Jorge Lomónaco 
Speech of the Ambassador of Chile, H.E. Mr Juan Antonio Martabit 
---
For further information or requests for interviews please contact Ms Sonia Robla, Head of Public Information and Documentation Section at +31 (0)70 515-8089 or +31 (0) 646448726 or at [email protected]

 
Source
Assembly of States Parties