Press Release
Reference Number
ICC-CPI-20101102-PR594
Image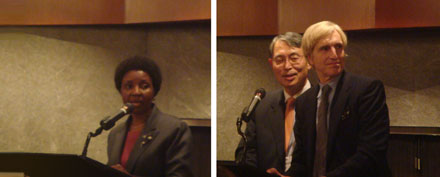 As a follow-up to the Review Conference discussions on the issue of complementarity, the President of the Assembly of States Parties, the President of the Court, the Prosecutor, the Registrar and the Director of the Secretariat attended a retreat on 28 and 29 October 2010. The event, which was organized by the International Center for Transitional Justice and the United Nations Rule of Law Unit at the Greentree Estate on Long Island, New York, brought together about 60 high-level officials from legal departments and development cooperation departments of States Parties and observer States, multilateral organizations, and civil society. 
    

    
From left:
Mr. Luis Moreno-Ocampo, Prosecutor,
Amb. Christian Wenaweser, President of the Assembly,
and Ms. Silvana Arbia, Registrar. 
The main purpose of the event was to discuss ways in which domestic jurisdictions could be strengthened to deal with Rome Statute crimes, with a particular focus on the current situation countries.
    
The panelists addressed the special needs in prosecuting Rome Statute crimes, referred to relevant experiences from other international tribunals and courts from Africa, the Balkans and Latin America, spoke about how complementarity was being applied in Kenya and Uganda, as well as focused on how to utilize synergies between already existing activities in the field of rule-of-law. 

The Assembly of States Parties will discuss the follow-up to the topic of complementarity when it meets at UN Headquarters from 6 to 10 December as its ninth session.

           ICC President's keynote remarks
       

---
       ICTJ - Meeting Summary on Complementarity Retreat
         12 Nov 2010 -   English
                
       ICTJ - ASP9 Side event Paper 
       "Making Complementarity Work: The Way Forward"
         9 Dec 2010 -   English
       


---
For additional information about the seminar, please send an email to:
[email protected]
.
Source
Assembly of States Parties