Press Release
Reference Number
ICC-CPI-20101028-PR592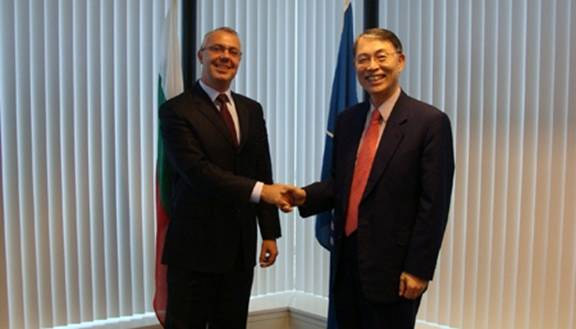 Deputy Minister of Interior of the Republic of Bulgaria, Dr Vuchkov, and ICC President, Judge Song

On 1 November, 2010, the President of the International Criminal Court (ICC), Judge Sang-Hyun Song, met with the Deputy Minister of Interior of the Republic of Bulgaria, H.E. Dr Veselin Vuchkov, at the seat of the Court, in The Hague (The Netherlands).
After welcoming Dr Vuchkov to the Court, President Song expressed appreciation for Bulgaria's longstanding support to the ICC, both in its own capacity as well as a member state of the European Union.
Deputy Minister Vuchkov reiterated Bulgaria's full commitment to the ICC and the Rome Statute. Bulgaria was one of the first 60 countries to ratify the Rome Statute, thus contributing to it coming into force on 1 July, 2002.
During his visit to the ICC, Dr Vuchkov also met with ICC Judge Ekaterina Trendafilova of Bulgaria.
The ICC, governed by the Rome Statute, is the first permanent, treaty-based, international criminal court established to help end impunity for the perpetrators of the most serious crimes of concern to the international community, namely war crimes, crimes against humanity, genocide, and the crime of aggression. The ICC is an independent international organisation, and is not part of the United Nations system.
---
For further information, please contact Fadi El Abdallah, Associate Legal Outreach Officer, on +31 (0)70 515-9152 or at [email protected]

The ICC's activities can also be followed through YouTube and Twitter
---