Press Release
Reference Number
ICC-CPI-20101028-PR593
Image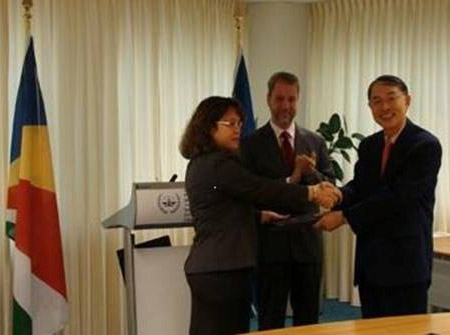 Today, the International Criminal Court (ICC) held a ceremony to welcome the Republic of Seychelles as the 112th State Party to the Rome Statute. The Statute enters into force for Seychelles today.
In a symbolic act held at the seat of the Court, the President of the Court, Judge Sang-Hyun Song, congratulated the Ambassador of Seychelles, H.E. Ms Viviane Fock Tave, and presented her with a special edition of the Rome Statute.
President Song welcomed the new State Party member, saying: "By ratifying the Rome Statute, Seychelles has entered the growing majority of the world's nations that have combined their efforts to end impunity for the most serious crimes of concern to humanity."
Ambassador Lomónaco paid tribute to the Republic of Seychelles' determination to achieve global justice and peace as an example for other States. "The Rome Statute system can only attain its full potential with universality. The Seychelles' decision constitutes a source of inspiration for those States who have yet to ratify it", he said.
In response, Ambassador Fock Tave stressed the "commitment of the Government of Seychelles to peace, justice and respect for human rights, and to the values of all the peoples and nations of the world". She added, "We look forward to taking our part in the work of the ICC, and of the Assembly of the States Parties to the Rome Statute."
The ceremony was held in the presence of the Vice-President of the Assembly of States Parties and Ambassador of Mexico, H.E. Mr Jorge Lomónaco. The First Vice-President, Judge Fatoumata Diarra, the Second Vice-President, Judge Hans-Peter Kaul, the Prosecutor, Mr Luis Moreno-Ocampo, the Registrar, Ms Silvana Arbia, and the judges of the Court also attended the ceremony.
Speech of the President of the ICC, Judge Sang-Hyun Song
Speech of the Vice-President of the Assembly of States Parties, the Ambassador of Mexico, H.E. Mr Jorge Lomónaco
Speech of the Ambassador of Seychelles, H.E. Ms Viviane Simone Fock Tave
You tube (for viewing purposes)
http://www.youtube.com/watch?v=s5pTa5x1_yk



---
For further information, please contact Fadi El Abdallah, Associate Legal Outreach Officer, on +31 (0)70 515-9152 or at [email protected]

The ICC's activities can also be followed through YouTube and Twitter
---
Source
Assembly of States Parties