Press Release
Reference Number
ICC-ASP-20100415-PR514
Image

San Salvador, 15 April 2010
At the invitation of the Government of El Salvador, through the Ministry of Foreign Affairs, the President of the Assembly of States Parties to the Rome Statute, Ambassador Christian Wenaweser, and the Director of the Secretariat of the Assembly, Mr. Renán Villacís, visited San Salvador on 13 and 14 April.
The main purpose of the visit was to provide information about the International Criminal Court, including clarifications about the role played by the Court and the manner in which it may exercise its jurisdiction over the crimes set out in the Statute, as well as to make a reference to the key challenges faced by several States in the process of ratification of the Statute, and to give insight into the perspectives regarding the Review Conference of the Statute, which shall take place in Kampala from 31 May to 11 June.
At the inauguration of the seminar on the International Criminal Court, the Minister for Foreign Affairs, Mr. Hugo Martínez, stated that the seminar would set the course "to pursue the phase of consultations and technical support by experts, organizations and national institutions interested and specialized on the topic, with a view to enrichening the discussion and paving the way for a more fruitful phase of legislative debates, with additional elements of judgment, to establish the requisite consensus on the accession or non-accession of El Salvador to this important instrument which guarantees human rights at a planetary level".
The seminar included among its participants representatives of the different branches of Government, diverse political parties, as well as members of unions and civil society.
President Wenaweser also held meetings with representatives of the parliamentary groups that are part of the Foreign Affairs Committee, the Chief Justice of the Supreme Court and the Defense Minister; in addition, President Wenaweser gave interviews to TV stations and newspapers.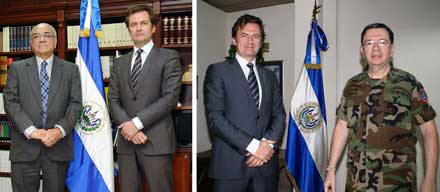 For more information, please see the Court's website (http://www.icc-cpi.int, under Assembly of States Parties) or see the website of the Ministry for Foreign Affairs of El Salvador
 (http://www.rree.gob.sv/sitio/sitiowebrree.nsf/pages/bol_estatuto#).
---
For additional information about the visit, please send an email to:
[email protected]
.
Source
Assembly of States Parties