Press Release
Reference Number
ICC-ASP-20111201-PR749
The President of the Assembly of States Parties, Ambassador Christian Wenaweser, and the incoming President of the Assembly, Ambassador Tiina Intelmann, presented the results of the consultations undertaken with the aim of finding a consensus candidate for the post of Prosecutor of the International Criminal Court.


On 25 October 2011 the Search Committee for the position of Prosecutor submitted its report to the Bureau, with a shortlist of four candidates. After the release of the report the President of the Assembly, with the assistance of five regional focal points, began a process of consultations over a four week period which included a series of meetings of the New York Working Group of the Bureau, where the four candidates shortlisted by the Search Committee were given the opportunity to present themselves to States Parties.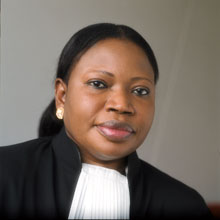 The consultations carried out resulted in an informal agreement among the States Parties to have a consensus candidate, Ms. Fatou B. Bensouda, from The Gambia, nominated for the consideration by the Assembly of States Parties. Ms. Fatou Bensouda will be elected at the tenth session of the Assembly on 12 December 2011, at the United Nations Headquarters, and assume the post on 16 June 2012.


Ms. Bensouda was elected Deputy Prosecutor by the Assembly of States Parties on 8 September 2004. She is in charge of the Prosecution Division of the Office of the Prosecutor. Prior to her election, Mrs. Bensouda worked as a Legal Adviser and Trial Attorney at the International Criminal Tribunal for Rwanda (ICTR) in Arusha, Tanzania, rising to the position of Senior Legal Advisor and Head of The Legal Advisory Unit. Before joining the ICTR, she was the General Manager of a leading commercial bank in The Gambia. Between 1987 and 2000, she was successively Senior State Counsel, Principal State Counsel, Deputy Director of Public Prosecutions, Solicitor General and Legal Secretary of the Republic, then Attorney General and Minister of Justice, in which capacity she served as Chief Legal Advisor to the President and Cabinet of The Gambia. Mrs. Bensouda holds a masters degree in International Maritime Law and Law of The Sea and as such is the first international maritime law expert of The Gambia.


Statement by the President of the Assembly
1 December 2011 - English | Español | Français | عربي  


United Nations Press Conference
1 December 2011 - English  |

UN Webcast Video  English (00:27:40)



---
For further information on the Assembly of States Parties, please e-mail to [email protected].



Source
Assembly of States Parties