Press Release
Reference Number
ICC-CPI-20100604-PR538
Image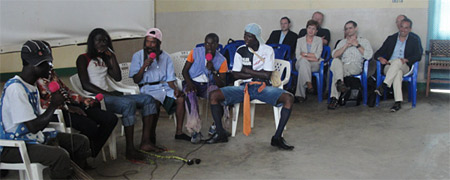 A delegation from the Committee on Budget and Finance of the International Criminal Court (ICC) and representatives of States Parties to the Rome Statute travelled to Bunia, the capital of Ituri, in the Democratic Republic of the Congo on 2 and 3 June 2010 to interact with affected communities and hear their views and concerns in relation to the work of the Court. The delegation consisted of Mr Santiago Wins, Chairman of the ICC Committee on Budget and Finance, Ms Elena Sopková, a member of the committee, and several delegates from the States Parties.
During the course of the visit, the delegation met key players working alongside the Court in the field. It then took part in an interactive outreach session for the general public on the work of the Court, which was attended by around 90 representatives from local NGOs and media organisations, women's, youth and student groups, as well as local leaders. The visit also provided delegates with an opportunity to discuss with employees of the ICC office based in Bunia, on their Field activities and on the various challenges they face, in particular in terms of witness protection, victims' participation and implementation of Outreach activities, especially at the trial stage.
"The visit to the Field office in Bunia confirmed the relevance of the ICC presence in the Field and provided an excellent example of cooperation amongst different sections, staff engagement and concrete results in an efficient manner" stated Santiago Wins, Chairman of the Committee.
The ICC Committee on Budget and Finance consists of 12 independent experts of recognised standing whose role is to make recommendations to the Assembly of States Parties, which the Assembly then uses as a basis for decisions which have a budgetary, financial or political impact on the work of the Court.
The visit by the delegation took place in the context of the Review Conference of the Rome Statute, which is being held in Kampala, Uganda, from 31 May to 11 June 2010. This conference represents a major step for the International Criminal Court, as it provides the first opportunity for States Parties to make amendments to the Statute since its entry into force on 1 July 2002. In addition, the Review Conference offers an opportunity for a "stock-taking" of international justice in 2010.
---
For further information please contact Ms Sonia Robla, Chief of Public Information and Documentation Section at +31 (0)70 515-8089 or +31 (0) 6 46 44 87 26 or at [email protected].