Press Release
Reference Number
ICC-ASP-20100602-PR534
Image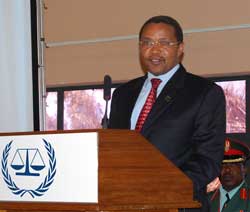 H.E. Mr. Jakaya Mrisho Kikwete, President of the United Republic of Tanzania
The Review Conference concluded its general debate on 1 June, with a total of 84 States (67 States Parties and 17 observers), along with Palestine, international organizations and NGOs having taken the floor to reiterate their commitment to the ICC mission of fighting against impunity, bringing justice to victims and deterring future atrocities.
With regard to the stocktaking of international criminal justice, a number of States emphasized the need of cooperation for the effectiveness of the ICC, the role of victims as the main stakeholders of the ICC system and the mutually reinforcing relationship between peace and justice efforts.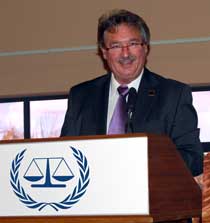 H.E. Mr. Jean Asselborn,
Vice Prime Minister and
Minister for Foreign Affairs of Luxembourg
The importance of complementarity was highlighted and measures on strengthening national jurisdictions to prosecute international crimes were welcomed. There was also a general call for universal ratification of the Rome Statute.
As regards the inclusion of the crime of aggression in the Court's jurisdiction, many States considered it essential that an amendment to the Statute be adopted at the Review Conference.
The Conference also held a pledging ceremony where the co-focal points for pledges, Mr. Ernst Hirsch Ballin, Minister of Justice of the Netherlands, and Mr. Gonzalo Gutiérrez, Permanent Representative of Peru to the UN, announced that they had received 112 pledges from 37 States and regional organizations, representing all regions of the world. These pledges cover: financial contributions, enforcement of sentences agreements, agreements on privileges and immunities, relocation of witnesses, cooperation with the Court and between States in various forms, complementarity, outreach and the designation of focal points.
The Conference also adopted the Kampala Declaration which deals mainly with the reaffirmation of the commitment of States to the Rome Statute and its full implementation, as well as its universality and integrity. States reiterated their determination to put an end to impunity for perpetrators of the most serious crimes of international concern, emphasized that justice is a fundamental building block of sustainable peace and declared that they would continue and strengthen their efforts to promote victims' rights under the Statute. States also decided to henceforth celebrate 17 July, the day of the adoption of the Rome Statute in 1998, as the Day of International Criminal Justice.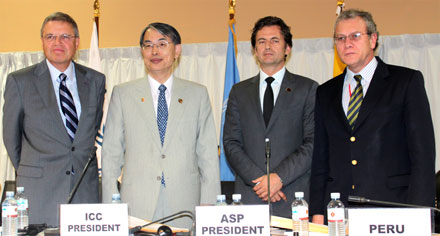 Mr. Ernst Hirsch Ballin, Minister of Justice of the Netherlands, Judge Sang-Hyun Song, ICC President, Ambassador Wenaweser, President of ASP and Mr. Gonzalo Gutiérrez, Permanent Representative of Peru to the UN.
The Review Conference has registered 86 States Parties and 33 observer States so far; additional delegations are expected for the second week of the Conference, which will then shift its focus to the negotiations on the crime of aggression.
Further information about the Review Conference can be found on the website of the International Criminal Court at:
https://asp.icc-cpi.int/en_menus/asp/reviewconference.
---
For additional information please contact
Ms. Bettina Ambach (+256 787-700-942, email:
[email protected]
) or
Ms. Suzan Khan at (+256 787-105-832, email:
[email protected]
)
Source
Assembly of States Parties