Press Release
Reference Number
ICC-ASP-20141208-PR1072
Image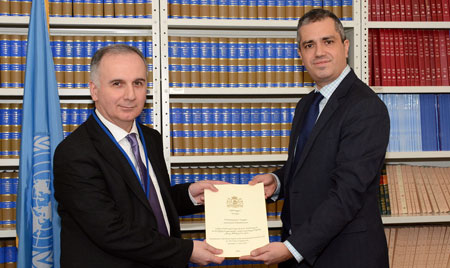 The President of the Assembly of States Parties to the Rome Statute, Ambassador Tiina Intelmann, welcome the deposit on 5 December 2014 of the instrument of ratification of Georgia of the 2010 amendments to the Rome Statute on the crime of aggression by H.E. Mr. Gocha Lordkipanidze, Deputy Minister of Justice of Georgia. The deposit of the instrument of ratification by Georgia brings the number of ratifications of the amendments on the crime of aggression to twenty. Georgia is the seventh country from the Eastern European Group to have ratified this set of amendments.
"It is noteworthy that most of the countries that have ratified the Kampala Amendments on the crime of aggression come from the European region. It reveals their appreciation of the relevance of the amendments on the crime of aggression against the realities and challenges of today," President Intelmann stated. "I am hopeful that other States Parties from all regions will express equal determination to proceed with the ratification of the  amendments adopted at the Kampala Review Conference.  On the eve of the thirteenth session of the Assembly it is important to focus at strengthening the International Criminal Court, including by giving the Court supremely qualified judges."
The crime of aggression was initially included in the Rome Statute in 1998 as one of the crimes under the jurisdiction of the Court, while the definition of the crime and the mechanism for the Court's exercise of jurisdiction were deferred to a Review Conference. The amendments adopted by consensus in Kampala, Uganda, in 2010 define the crime of aggression and provide for the conditions for the exercise of jurisdiction over this crime. The Court may exercise jurisdiction over the crime of aggression once thirty States Parties have ratified the amendments, and subject to a decision to be taken after 1 January 2017 by the States Parties.
Georgia ratified the Rome Statute on 5 September 2003. In August 2003, it adopted legislation incorporating the Rome Statute crimes and provisions on cooperation, respectively, into domestic law. On 10 March 2010, it ratified the Agreement on Privileges and Immunities of the Court (APIC).
Crime of aggression amendments
UN Treaty Collection- Ratification participants list
Source
Assembly of States Parties