Press Release
Reference Number
ICC-ASP-20160304-PR1193
Image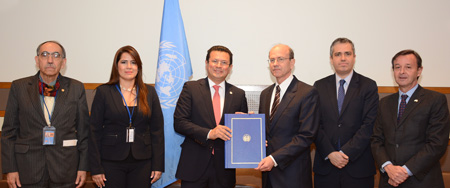 The President of the Assembly of States Parties to the Rome Statute ("the Assembly"), Minister Sidiki Kaba ("the President) welcomed the deposit by the Republic of El Salvador, on 3 March 2016, of the instrument of accession to the Rome Statute of the International Criminal Court, and of the instruments of ratification of the amendments to the Rome Statute on war crimes and on the crime of aggression.
The deposits by El Salvador bring the number of States Parties to the Rome Statute to 124, to the Kampala Amendments on war crimes to 30, and to the Kampala Amendments on the crime of aggression to 28.
The instruments of accession and ratification were presented by H.E. Mr. Hugo Roger Martinez Bonilla, Minister of Foreign Affairs of El Salvador, in the presence of Mr. Stephen Mathias, UN Assistant-Secretary-General for Legal Affairs, in the context of a New York Working Group meeting that H.E. Mr. Sebastiano Cardi, Vice-President of the Assembly, convened specially for this occasion.
At the deposit ceremony, the President of the Court, Judge Silvia Fernández de Gurmendi, delivered a video statement, which along with several statements from States Parties highlighted the importance of the decision of El Salvador, not only for the region but for the Rome Statute system as a whole.
From Dakar, President Sidiki Kaba stated:
"I celebrate the national unity that has made possible the accession of El Salvador to the Rome Statute. This decision by the people of El Salvador signals their commitment to the prevention of the most atrocious crimes and their understanding of the central role that the Rome Statute and the International Criminal Court play in this regard.  I reiterate the importance of redoubling our efforts to ensure the continued expansion of the family of States that cooperate to fight against impunity and to protect the victims of genocide, crimes against humanity, war crimes and the crime of aggression."
Statement by Judge Silvia Fernández de Gurmendi,
President of the Court
   PDF -  English | Español | Français


States Parties to the Rome Statute
UN Treaty Collection – Ratification participants list
Crime of aggression amendments
UN Treaty Collection- Ratification participants list
Article 8 amendment
UN Treaty Collection - Ratification participants list
Source
Assembly of States Parties