Press Release
Reference Number
ICC-ASP-20150814-PR1138
Image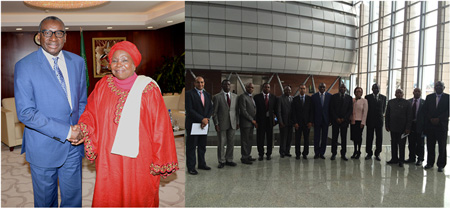 On 13 August 2015, H.E. Mr. Sidiki Kaba, President of the Assembly of States Parties to the Rome Statute ("the Assembly") of the International Criminal Court ("the Court"), traveled to Addis Ababa (Ethiopia) to meet with H.E. Dr. Nkosazana Dlamini-Zuma, Chairperson of the African Union Commission. During their exchanges, the President of the Assembly introduced the main priorities of his term and reiterated the need to develop a new relationship between Africa and the Court. He also emphasized the need to strengthen the judicial capacities of States to prevent and prosecute the most serious crimes contained in the Rome Statute.
President Sidiki Kaba also met with the Bureau of the Committee of Representatives to the African Union (COREP) and with the Chairs of the African regional groups at a meeting held in the presence of Ms. Djenna Djarra, Executive Secretary of the Commission. At this meeting, President Kaba welcomed the efforts undertaken by the African Union to fight impunity.
Furthermore, President Kaba met with Mr. Haile Menkerios, Special Representative of the United Nations Secretary-General to the African Union, with whom he had fruitful discussions on the peacebuilding efforts by the United Nations in Africa. In this regard, he reiterated that justice is an essential vehicle to ensure sustainable peace and break the cycles of violence that feed from impunity.
President Kaba also met with the Delegation of the European Union ("EU") and with the representatives from EU member states in Addis, as well as with the representatives of the Group of Latin American and Caribbean States (GRULAC) accredited in Ethiopia. At these meetings, he urged them to continue supporting the Court.
At the conclusion of this official visit, H.E. Mr. Kaba stated:
"I thank President Dlamini-Zuma for her warm welcoming as well as the constructive exchanges we had. I am convinced that there is an urgent need to restore trust between the Court and African States Parties to the Rome Statute. The dialogue that we started today must be continued as we aspire to initiate a new era in the relationship between the Assembly and African States".
Source
Assembly of States Parties