Press Release
Reference Number
ICC-CPI-20130416PR897
Image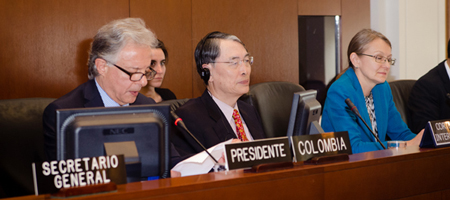 On Friday, 12 April 2013, President of the International Criminal Court (ICC), Judge Sang-Hyun Song and President of the Assembly of States Parties to the Rome Statute, Ambassador Tiina Intelmann addressed a meeting of the Juridical and Political Committee of the Organization of American States (OAS) in Washington, D.C. President Song and Ambassador Intelmann thanked the OAS and its member states for their strong support of the ICC and highlighted several areas where cooperation could be further enhanced.
"The nations of the Americas have experienced great suffering and injustice in the course of history, and fought very hard to ensure the victory of truth, justice and peace over impunity and abuse", President Song said. "These formidable efforts form an integral part of the historical developments that resulted in the establishment of the ICC and the modern concept of international criminal justice".
President Song urged the 11 American States Parties to the Rome Statute that have not ratified the Agreement on the Privileges and Immunities of the International Criminal Court (APIC) to do so without delay. He stressed that while article 48 of the Rome Statute stipulates that the ICC shall enjoy the necessary privileges and immunities in each State Party, the APIC provides important legal clarity by ensuring that national authorities are aware of the practical scope of privileges and immunities and how to implement them.
President Song furthermore encouraged OAS members to consider providing voluntary assistance to the ICC through the conclusion of cooperation agreements on the relocation of witnesses, enforcement of sentences, interim release or the acceptance of acquitted persons. He also called upon the American States Parties to the ICC to promote universal ratification of the Rome Statute.
In her remarks, Ambassador Intelmann highlighted the importance of the adoption of national legislation that would allow the investigation and prosecution of atrocity crimes domestically. Ambassador Intelmann urged OAS Member States to support the Trust Fund for Victims as well as to consider ratifying amendments to the Rome Statute on the crime of aggression and war crimes in non-international conflicts.
Of the 35 Member States of the OAS, all are party to the Rome Statute except for Bahamas, Cuba, El Salvador, Haiti, Jamaica, Nicaragua and the United States. The OAS General Assembly has annually adopted resolutions expressing support for the ICC. On 18 April 2011, the ICC and the General Secretariat of the OAS concluded a framework cooperation arrangement for the promotion of international criminal law and the values of the Rome Statute.
---
For further information, please contact Fadi El Abdallah, Spokesperson and Head of Public Affairs Unit, International Criminal Court, by telephone at: +31 (0)70 515-9152 or +31 (0)6 46448938 or by e-mail at: [email protected].
You can also follow the Court's activities on YouTube and Twitter